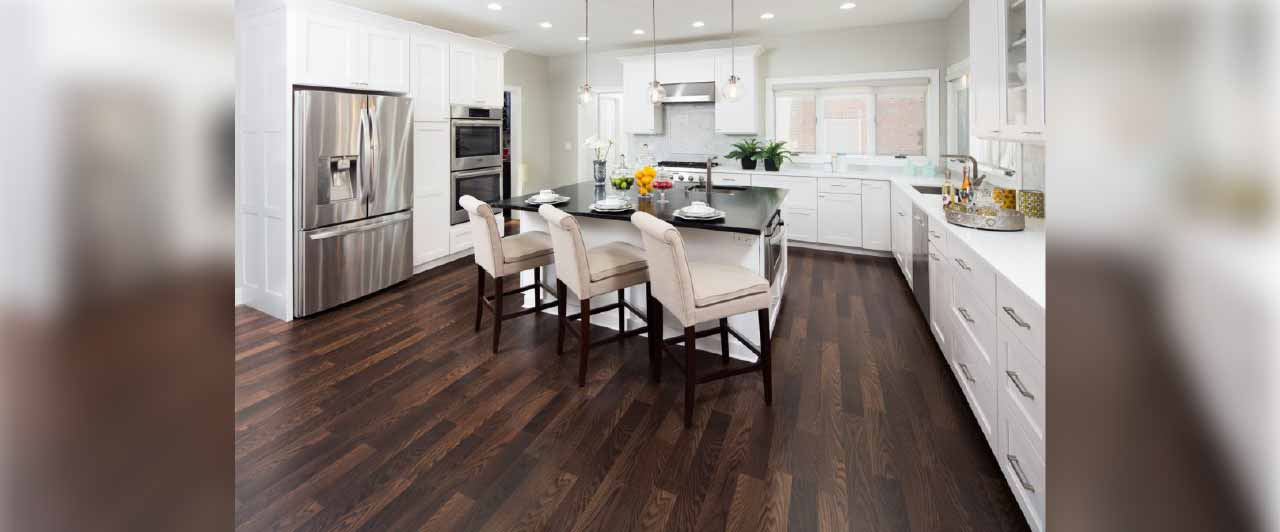 What is Laminate Flooring?
The easy flooring collection combines aesthetics along with durability making it a much sought after floor for people who want life styles homes without feeling pinch. The range comes with a 2 year commercial warranty and a 10 years residential warranty. Its Easier to reinstall, waxed locking, glue less and no mess, self aligning. It comes in 12 different pleasing designs and shades.
What are the different types of laminate flooring?
The different installation types for laminate flooring are:
Glue-less laminate flooring.
Glued laminate flooring.
Pre–glued laminate flooring.
Underlayment attached.
1.Looks like wood flooring.
Looks like plastic.
Looks like tile.
Smooth laminate flooring.
Laminate Flooring Applications & USP
People usually have following questions :
Which is better hardwood or laminate?
PROS – Hardwood is the real deal; it is gorgeous and, depending on the type ofwood, can add considerable value to your home. Laminate: PROS – Since laminate is made from pressed wood, it is more durable and resists scratches, moisture and wear and tear. Laminate flooring is also easier to clean.
What is needed to install laminate flooring?
What You'll Need
Tape measure. Level. Jamb saw. Circular saw.
Hammer. Utility knife. Clamps. Nail punch.
Carpenter's square. Foam underlayment. Floor Installation Kits. Sealant.
Mildew-resistant silicone caulk. Floor-leveling compound (if needed) Duct tape. Concrete patch.
Finishing nails. Moulding. Threshold.
Can you wash laminate flooring?
Cleaning Laminate Floors: Do not use steam cleaners or wet mops, which may cause irreparable damage to your floor. Use a damp cloth to blot up spills as soon as they happen. … Do not wash or wet mop the floor with soap, water, oil-soap detergent or any other liquid cleaning product.
Why Surya Enterprise for Laminate Flooring in Goa?
Surya Enterprise is one of the top laminate flooring dealers in Panjim with sales office in Vasco, Goa. We do supply of laminate flooring and installation of laminate flooring system in goa including Margao, Ponda, Verna in South Goa and Mapusa, Bicholim, Anjuna, Arambol in North Goa.
We also undertake custom flooring solutions in Goa and also we are a one stop solution for the entire range of Laminate Flooring in Goa for hospitals, health-care centers, administration and office buildings, schools, nurseries, as well as commercial and industrial facilities.
Trust only Surya Enterprises for Laminate Flooring in Goa.
From Our Blog ///
7 Reasons Why Laminate Flooring Can Be an Ideal Solution for Your Home
With whole range of interior & exterior flooring solution in Goa, Surya Enterprise offers affordable priced, low cost laminate flooring solution in goa to those who are worried about what is the prices of laminate flooring in goa?
Interested in Laminate Flooring Solution in Goa?