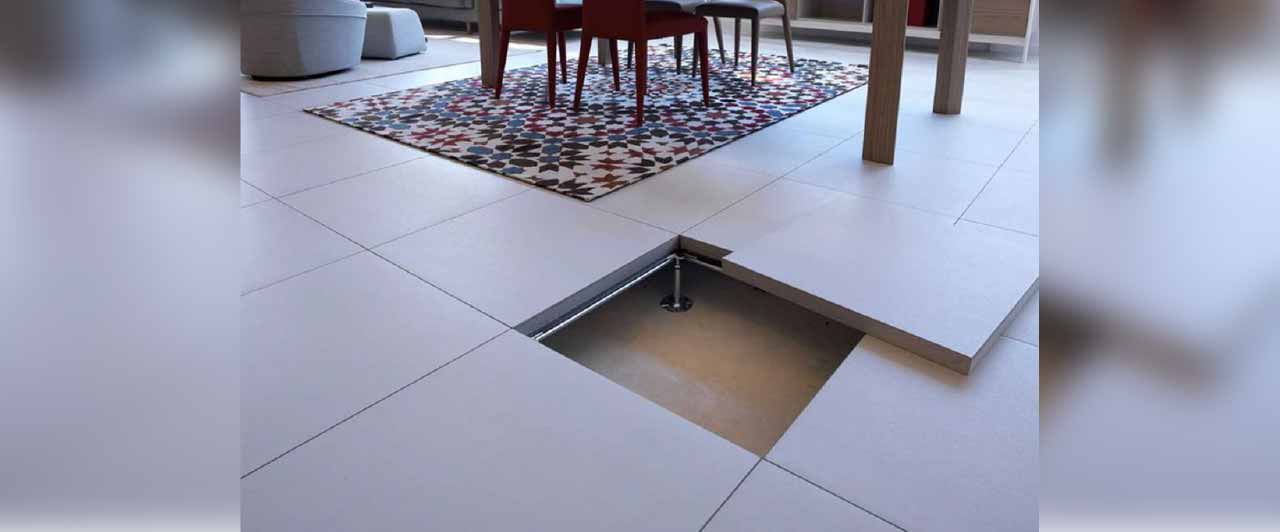 What is Raised Flooring?
Raised access floor systems consist of bolt-together metal pedestals and floor panels of steel with cementations infill. This system is completely modular, any panels can be uncovered to access the wires beneath, enabling changes to be made easily without the need of skilled man power or specialized equipment. The finished floor surface can be carpet tiles, vinyl tile, laminated or stone finished. Raised floor solution brings people and places together in a ways that reduces the costs and improve performance.
Raised Flooring Applications & USP
A raised access floor is a platform built several inches above the structural floor. Creating a cavity/void between the existing structural floor and the upper surface of the raised floor. The cavity is utilized for distribution of building services such as power, voice, data, heating and cooling services etc.
Raised Flooring Maintenance
Regular cleaning and maintenance are essential to maintain the long life and good looks of your flooring. In light domestic settings, it may be enough to simply sweep or hoover regularly and then wash your floor with a damp cloth or mop and soapy water.
Raised Flooring Design and Styles
The Raised Floor Solutions technical team adopts a Value Engineering methodology to the design of every steel floor deck, concrete floor slab and access floor solution. Value Engineering is used to solve problems and to identify and eliminate unwanted expenditure, whilst at the same time seeking to improve both the function and quality of the composite floor solution.
All aspects of the complete floor slab design and construction are considered at tender stage and a number of alternative design and product solutions can be presented to meet the specification and user requirements.
Why Surya Enterprise for Raised Flooring in Goa?
Surya Enterprise is one of the top raised flooring dealers in Panjim with sales office in Vasco, Goa. We do supply of raised access flooring and installation of raised flooring system in goa including Margao, Ponda, Verna in South Goa and Mapusa, Bicholim, Anjuna, Arambol in North Goa.
We also undertake custom flooring solutions in Goa and also we are a one stop solution for the entire range of Raised Access Flooring in Goa for hospitals, health-care centers, administration and office buildings, schools, nurseries, as well as commercial and industrial facilities.
Trust only Surya Enterprises for Raised Flooring, Raised Access Flooring in Goa.
From Our Blog ///
What is Raised Floor or Raised Access Floor System?
With whole range of interior & exterior flooring solution in Goa, Surya Enterprise offers affordable priced, low raised access flooring solution in goa to those who are worried about what is the prices of raised flooring in goa?
Interested in Raised Access Flooring Solution in Goa?